So I've tried out some of the Jack N' Jill tooth care and I'm happy with them. He currently has 7 teeth, 4 on top, 2 on bottom and 1 on bottom just getting through.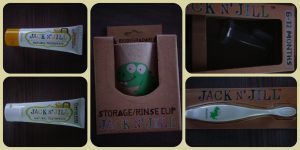 I've got 2 toothpastes. The natural flavour and the banana flavour. I haven't noticed any preference from my son.
I've chosen the Dino themed toothbrush and cup, because I find the Koala and Hippo to girly (nothing wrong with that ofcourse) and I liked the Dino more than the Bunny. They are both biodegradable. I haven't used the toothbrush yet, but I just wanted to keep it on hand.
My son seems to like the silicone finger brushes, he tries to use those as a chewing toy every time I use them. My poor fingers xD This is the stage 1 from their range for babies. I am thinking about using the stage 2 and 3, but we'll see about that later.
Recently I saw that they have tooth keepers and I'm definitely gonna get one of those.