I've bought these in march of 2018 and was planning on making an unboxing post, but a lot has happened since then. So now I'm making the combination with a review. These are the Killstar Evelyn Flats and I've bought them to wear to a wedding from a niece of my boyfriend. I really love them and was really happy with the fact that you can tie a ribbon around the pentagram so you can't offend anyone, because I didn't knew all of the guests. The other reason that I chose these flats, is because I think they are really cool.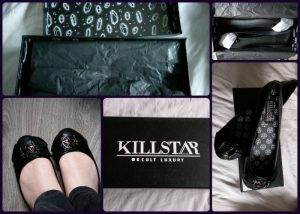 The packaging looks so cool :p It's in the size EU41/UK8 and I've bought them from Attitude Holland. My feet are a bit wide and that's why I have to size up for most shoes. After wearing them to break in they got really comfy to wear and they are one of my favourite pairs of shoes in my really small collection xD
Update 12-01-2018: I've owned them for about 7 months. I still think that they are comfortable to walk in, but not for long walks. And I still love them as much as I did when I first got them.